Orchards Cookery Ltd

The Orchards
Salford Priors
Nr Evesham
Worcestershire
WR11 8UU
Telephone: 01789 490 259

Please note
: Postcode based satellite navigation systems and internet route planers will not guide you to the cookery school. We are slightly off the beaten track so please refer to our directions below so that you find us easily.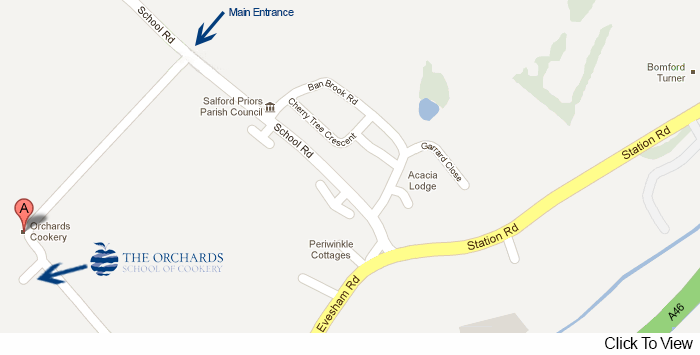 By car
The school is most easily approached by the A46:


Directions from the A46
1)
At the roundabout where the B439 from Stratford-upon-Avon joins the A46, take the road sign-posted to Salford Priors.
2)
After a quarter of a mile you pass a church on the left (set back from the road so easily missed) and take the next turn right into School Road.
3)
Follow the road for a further quarter of a mile and turn left into our drive by a tall, crooked pine tree, signed to
Angus Soft Fruits
(If you see a telephone box on the right you have passed the entrance to our drive).
4)
There is a security gate half way up the drive. If it is closed please call us from the gate so that we can let you in - if the phone is not answered please do not leave a message on the answer phone but try again in a few minutes.
5)
After the fourth sleeping policeman there is a large barn on the right, bear left off the concrete and you will come to the back of the house.
Directions from nearby motorways to the A46

M42
- At Junction 3 take the A435 sign-posted to Studley and Alcester. Pass through Studley and the road bypasses Alcester where you pick up the A46 to Evesham.
M5
- Southbound: At Junction 4 take the A38 to Bromsgrove. Take the A448 towards Redditch and Studley. The road joins the A435 and bypasses Alcester where you pick up the A46 to Evesham.
Northbound: At Junction 9 take the A46 to Evesham and then towards Alcester and Stratford-upon-Avon.
M40
- At Junction 15 take the A46 sign-posted to Stratford-upon-Avon. Continue to follow the road to Alcester and then towards Evesham.
---
By Train
The nearest station is Evesham (just under two hours from London Paddington on the Hereford line, direct via Oxford). Stratford-upon-Avon and Redditch stations may be more convenient but are a little further away.
---
By Air
The nearest airport is Birmingham International which is 40 minutes away by car. A taxi from the airport is £50 if you use Evesham Cars, see below.
---
Taxi ServiceS
Collection from Evesham Station and Airports:

Evesham Cars
: 07730 202 299 (discounted rate; £10-£15 from Evesham, including Sundays. They have a people carrier which can be shared with other Orchards students, but please book in advance. A taxis from Birmingham airport is discounted to £50)
eveshamtaxis@gmail.com
Terrie's Taxis
: 07721 640 208 - works with Evesham Cars (except on Sundays) and will offer same rate as above.
Platinum Taxis
: 07958 083 643
Collection from Stratford-upon-Avon and Redditch station:

Claremont Cars
: 01386 833 660